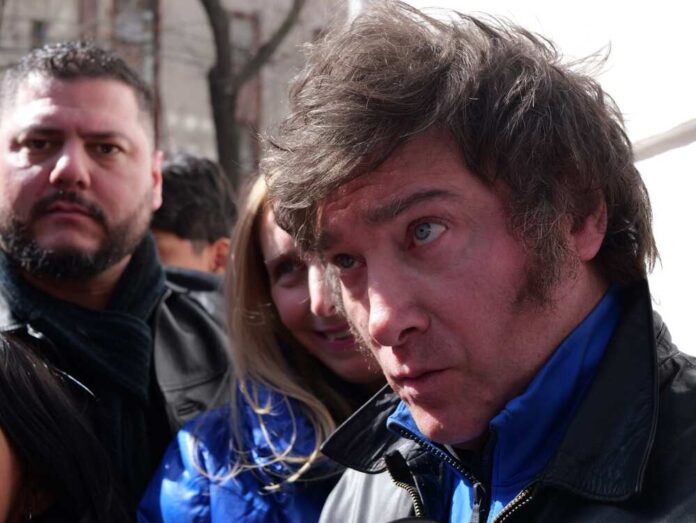 In Buenos Aires, Argentina, the current economic minister of a nation grappling with 140% inflation and 40% of its population living below the poverty line faced a resounding defeat in the presidential election. It appears that he couldn't secure a victory in Argentina.
BREAKING: Javier Milei has been elected as the next president of Argentina.

Here is Milei going off on socialist politicians, calling them "parasites" for stealing from their people.

"This is a society infected by socialism and what we need to achieve is to remove socialism… pic.twitter.com/lo8NrTwoxv

— Collin Rugg (@CollinRugg) November 19, 2023

Javier Milei, a libertarian outsider and economist from the Liberty Advances party, emerged triumphant, defeating the establishment's center-left candidate, Sergio Massa, a Peronista.
With 99.3% of the votes tallied, Milei secured 55.7% of the vote, while Massa garnered 44.3%. While Massa managed to win the populous Buenos Aires province by a slim margin, Milei dominated the city of Buenos Aires and overwhelmingly carried the vote-rich northern provinces of Cordoba, Santa Fe, and Mendoza.
Leading up to the election, Milei held a slight lead in the polls, but political analysts had noted that he had significantly underperformed in the initial round of voting the previous month. In the first round, Milei received only 30% of the vote, compared to Massa's nearly 37%, with former center-right Security Minister Patricia Bullrich securing 24%.
Milei's primary challenge was to consolidate support from the first-round Bullrich voters. Polls indicated that he was expected to capture 70-75% of Bullrich supporters and evenly divide the backers of the fourth-place candidate, Cordoba governor Juan Schiaretti, with Massa. Milei appears to have not only met but exceeded these expectations.
BREAKING: 'Trump of Argentina' Javier Milei who was interviewed by Tucker Carlson has just won the Argentine Presidential Election.pic.twitter.com/6c526w0Y7L pic.twitter.com/mx6R7fNCRg

— Simon Ateba (@simonateba) November 19, 2023

The prevailing sentiment of discontent over rampant inflation, poverty, insecurity, and corruption within the Peronist party evidently overshadowed Massa's institutional advantages, which included substantial state resources and the influential Peronist political machinery. This machinery included numerous unionized workers, both in the public and private sectors, who tend to align with left-leaning ideologies; in fact, a significant 40% of Argentinian workers are unionized, compared to just 11% in the United States.
Massa graciously acknowledged his defeat in front of disappointed supporters in northern Buenos Aires but made it clear that Milei would now be responsible for the nation's economic challenges.
Meanwhile, Milei's supporters gathered near the Hotel Libertador in front of Avenida 9 de Julio, close to the iconic obelisco, where they filled Avenida Cordoba, expressing their discontent with the country's political class and Vice President Cristina Kirchner in particular.
The current President, Alberto Fernandez, had been conspicuously absent for months, leading to widespread suspicion that Massa had been the driving force behind major economic and political decisions throughout the year.
With a robust voter turnout of 76%, Argentinians expressed their significant dissatisfaction with the dominant Peronist party, which had held sway in political life for three-quarters of a century.
The Argentinian electorate confronted a fundamental question: Is it preferable to stick with the familiar, albeit problematic, status quo or embrace an untested alternative?
Despite concerns about Milei's temperament, lack of government experience, and his propensity for outspokenness reminiscent of former U.S. President Donald Trump, the nation's 45 million citizens made a resounding choice in favor of the latter option.
Milei had captivated audiences on the campaign trail with his theatrical approach, portraying himself as a fearless lion ready to confront the nation's "useless and parasitic" political elite, often using a chainsaw as a symbol of his disdain for what he perceived as excessive government spending.
He successfully engaged Argentina's young population, particularly through social media and interviews, while Massa relied more on traditional print media.
Amidst ongoing conflict in Israel, Milei also garnered support from Argentina's significant Jewish community, the largest in Latin America, and prominently displayed the Israeli flag at campaign events. He pledged that under his leadership, Argentina's key allies would be the United States and Israel.
Milei also benefited from the swift and enthusiastic backing of Bullrich and former center-right President Mauricio Macri, both of whom had long been at odds with the Peronist political establishment.
The path forward for Milei and his allies won't be without challenges. The Liberty Advances Party holds only a small block in each house of Congress, while the Peronist party commands the largest representation in both chambers. Milei will need to collaborate with Peronists and the center-right Macri/Bullrich faction to advance his policy goals.
While a swift transition to a dollarized economy or an immediate overhaul of the Argentine Central Bank is unlikely, Milei will rely on his humor and political acumen as he works to present his vision of "liberal libertarianism" to the Argentine populace and the world.
Milei, known for his love of a good battle, now faces the fight of his life.